Crazy Blue Graces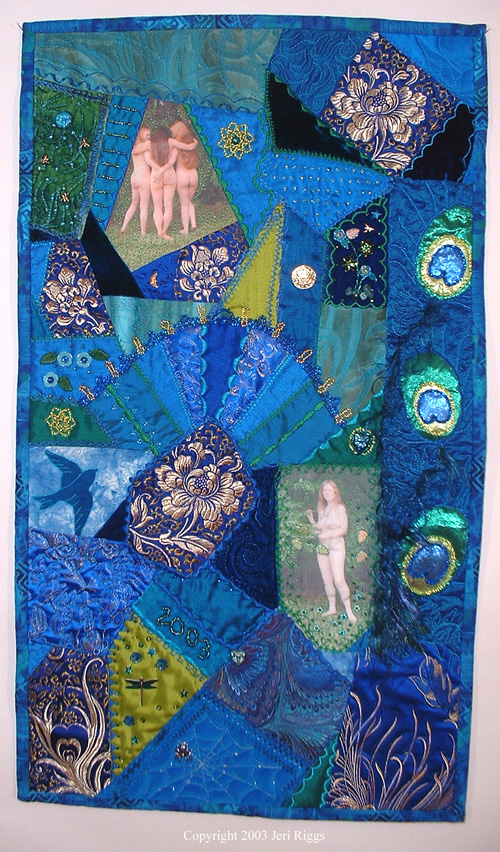 Crazy Blue Graces

November 2003

14 X 24 inches

Materials: Silk dupioni, brocaded silk, silk and rayon velvet, cottons, velveteen, nylon lame', glass beads, charms, buttons, rayon yarn, cotton batting
Techniques: Machine pieced, machine embroidered , bobbin embroidery, fused, couched, hand beaded, phototransfer and screenprinting by artist.

I had quite a lot of fun sewing and playing with using my home sewing machine to do the decorative stitching. I first pieced the pieces (velvets, silks, brocades, etc) on a muslin foundation, and then used my rayon threads, and stitched a bunch of fancy stitches on the seams from the top with my machine. I especially enjoyed the look of the satin stitch ones that made melons, scallops, and triangle shapes, and the viney ones.Then, I wound a few bobbins with thicker threads, and flipped the thing over ( since it was sewn on foundation I could see where the seams were) and used the thick bobbin thread to do more decorative stitches from the back. It worked really well! Especially fun with the variegated pearle cotton I bought from Laura Wasilowsky in Houston, and some thinner sparkly yarns. I had fun couching yarn from the top also. Then, I sandwiched it and quilted it as usual for a quilt, since I wanted the heft of a batting, and I like to do a nice binding. I then went wild with beads and charms. It was really fun to make, and I wound up really enjoying the process. I also used phototransfers of myself and some friends, instead of the cigarette silks I had-- why use 100 year old ladies when I can use 40 year old ones?




---
Quilt design Copyright © 2003, Jeri Riggs